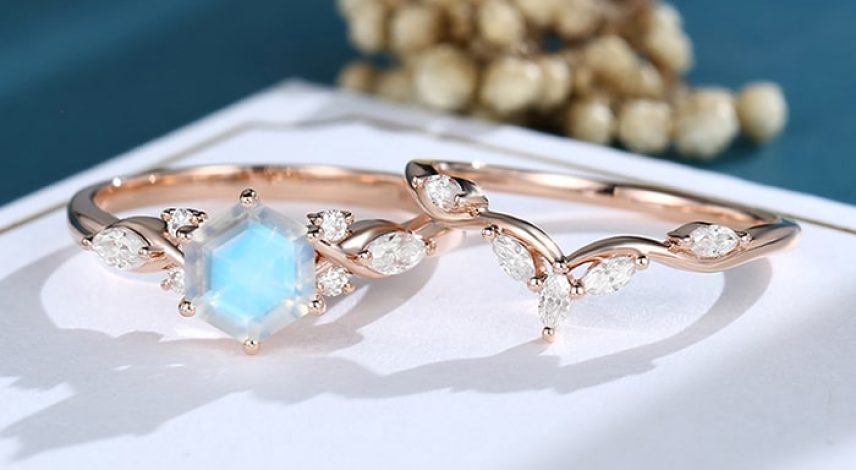 Choosing an engagement ring is a significant decision, symbolizing love, commitment, and a lifelong partnership. In a world filled with traditional options, why not consider the enchanting allure of a moonstone engagement ring? In this blog post, we'll explore why a moonstone engagement ring is the right choice for you.
Moonstone is a gemstone that belongs to the feldspar group of minerals. When viewed from different angles, it appears to produce a shimmering or glowing effect on the surface of the gemstone. This is due to its unique internal structure that creates the fascinating visual effect known as Adularescence.
Moonstone is usually transparent to translucent and comes in a variety of colors, including white, peach, gray, and iridescent (multicolored).In addition, it is considered the birthstone of June, as is the alexandrite. It is a great choice for brides born in June, or even for June weddings.
One of the most popular gemstones, it has long been used to make jewelry. With proper care and maintenance, it can also be used as an engagement ring stone.
Benefits of Moonstone Engagement Rings
Moonstone's mesmerizing adularescence sets it apart from other gemstones. Its iridescent glow, reminiscent of moonlight in water, creates an ever-changing play of light that captures the imagination. Moonstone engagement rings showcase an ethereal beauty that brings a sense of serenity and refinement.
Moonstone has long been associated with feminine energy and intuition. It enhances emotions, promotes calmness, and brings harmony to relationships. It is also considered to be the "stone of lovers", causing tender feelings and protecting the true joy of love. Choosing a moonstone engagement ring reflects a beautiful love and emotional commitment to your partner.
Moonstone engagement rings are a departure from traditional options, allowing you to express your own unique style and personality. Moonstone's soft and subtle hues can be set in a variety of metal types and designs. By choosing a moonstone ring, you can create a novel and personalized engagement ring. In addition, the most popular moonstones are colorless stones with a blue sheen.
One of the advantages of a moonstone engagement ring is its affordability. Compared to some other gemstones commonly used in engagement rings, such as diamonds, moonstone offers an attractive option that doesn't compromise on beauty or symbolism. This allows you to invest in a stunning piece of jewelry while staying within your budget, making your engagement ring purchase a practical and meaningful choice.
Moonstone's association with the moon and lunar energy adds an element of natural enchantment to your engagement ring. Just as the moon influences the tides, the moonstone serves as a reminder of life's cycles and the importance of finding balance. Wearing a moonstone engagement ring fosters a deeper connection with nature, grounding you in the beauty and mysteries of the natural world.
Choosing a moonstone engagement ring is a decision that combines unparalleled beauty, profound symbolism, individuality, affordability, and a connection with nature. It is a choice that speaks volumes about your love, style, and commitment to a harmonious and intuitive partnership. Let a moonstone engagement ring be the symbol that captures the essence of your unique love story, radiating with ethereal beauty and profound meaning for years to come.