A Moss Agate Engagement Ring Buying Guide
3 comments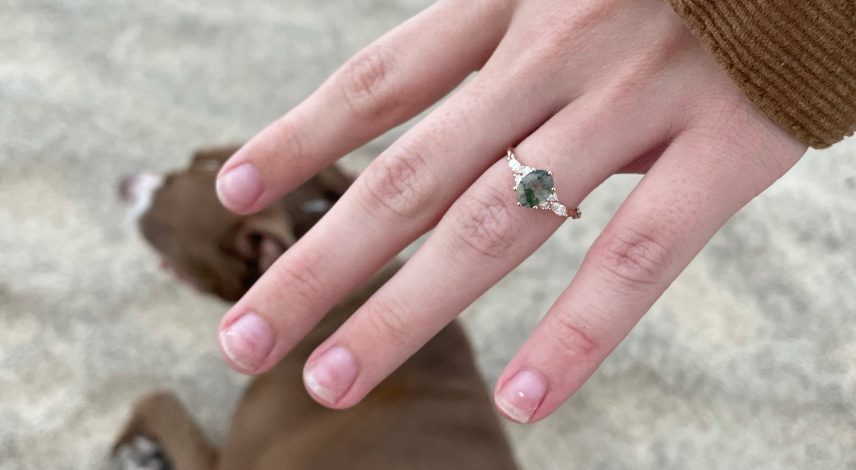 Are you looking for a unique and meaningful engagement ring that reflects your personality and values? Consider a moss agate engagement ring. With its beautiful green inclusions and grounding energy, moss agate is a stunning and symbolic choice for those who want something out of the ordinary.
Moss agate is a gemstone with a pattern of thin green filaments that look similar to creeping moss or other plants. It is also called mocha stone, a name derived from the city of Mocha in Yemen, which was a major source of moss agate in the ancient world.
Like most gemstones, moss agate has long been used for personal adornment. It was known as a lucky stone in eighteenth-century America, and some ancient cultures also believed it had healing properties. Because of its moss-like green inclusions, farmers believed it helped promote healthy crops and good harvests.
What does the moss agate engagement ring symbolize
Good luck
Refreshed
Emotional Balance
Farmers favor this stone because of its unique green inclusions. They believed that the beautiful, natural appearance of this gemstone would give their crops a lush growth. This harvest connection spread from the farm to the home, where people believed moss agate brought good luck and prosperity.
On a deeper level, Moss agate is said to be associated with the heart chakra. When the heart chakra is out of balance, a person can feel controlled or stuck, and therefore unable to receive and give love. It helps to balance the heart, helping us to find balance within and embrace the love we deserve. For this reason, wearing a moss agate engagement ring is considered a great way to help maintain a stable and supportive relationship with your partner.
What to look for when buying a moss agate engagement ring
Consider the clarity of the moss agate:
Moss agate should have a clear and transparent base that allows for the moss inclusions to be seen distinctly. Avoid stones that have visible inclusions or cracks that could potentially affect the overall durability of the ring.
What cuts go well with moss agate?
The cut will greatly affect the overall appearance of the stone. A professional cut and polish will maximize the unique appeal of your gemstone. However, it is equally important to choose the shape of the cut of your favorite gemstone.
Are there any stones similar to moss agate?
The most attractive feature of moss agate is that each moss agate is unique, and because of its moss-like inclusions, no two moss agates in the world can be found exactly alike. It is both beautiful and unique, and it is believed that there is a beautiful story behind each moss agate engagement ring.
How to clean and store moss agate engagement rings
The safest way to clean a moss agate engagement ring is with warm soapy water and a soft cloth or brush. To avoid its breakage or damage, do not use cleaning treatments such as ultrasonic cleaners to remove it. Make sure your moss agate jewelry is completely dry before wearing or storing it. Moss agate jewelry should be stored separately from other jewelry containing hard stones(such as diamond) to avoid scratches.
Explore or Customise a Moss Agate Engagement Ring
Each moss agate is unique, with some stones transparent and others are milky white background, the amount of mossy inclusions is also indeterminate.
Moss agate looks great with all colors of engagement rings, and we offer many different cuts including round, pear, hexagonal, kite, and more.
Our professional team offers customization services! Please let us know if you have customization requirements, let's work together for your dream ring!