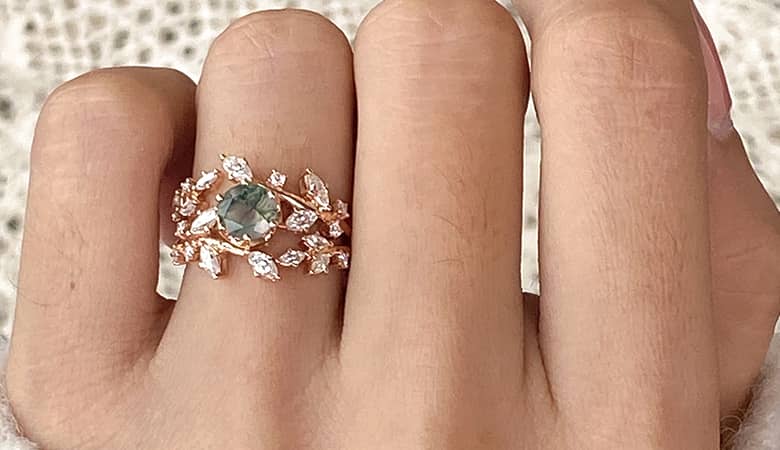 For jewelry lovers, a moss agate ring is a must-have item. Because of their understated and natural appeal, they can add interest to any outfit.
What stones should moss agate go with?

Moss agate is a predominantly white quartz with a unique green moss pattern that looks like a dark green landscape painting. Pair moss agate with moissanite or diamonds to emphasize its white background color. If you want to emphasize its connection to nature, you can pair it with other stones in botanical tones. Moss agate is paired with a gemstone with blue tones (alexandrite) to create a restful palette.
At Lisajewelryus, we have a large selection of nature-inspired moss agate rings for you to choose from. Here are some of our most popular moss agate engagement ring collections.
The ring exhibits a profound connection with nature by combining dark moss agate and dark alexandrite. The fusion of deep green shades exudes a mysterious vibe and gives a feeling of serenity.
Moss agate is a type of quartz that is mostly white but features a distinctive green moss-like pattern, resembling a dark green landscape painting. It can be beautifully paired with moissanite or diamonds to highlight its white background color.
It is relatively easier to choose a moss agate set ring than it is to choose a moss agate engagement ring. This is because you don't have to think about whether this engagement ring and the wedding band match. These sets are perfectly designed because rings that are designed to be worn together will provide a tighter and more secure fit.
Pairing a moss agate ring with a brilliant blue alexandrite creates a stunning contrast that draws attention to both stones. If you want a striking and novel ring, this would be a great choice.
Emerald is a green stone that accentuates the natural green color of moss agate. This creates a harmonious color combination that enhances the green tones of moss agate. In addition, the greenish-gray and mossy inclusions of moss agate provide an interesting contrast to the bright and sparkling moissanite, making it stand out even more. This combination of stones creates a balanced and harmonious look that appeals to a wide range of tastes and styles.
If you want a ring set that makes a statement, this pair is a great choice. The natural simplicity of moss agate can be complemented by the iridescence and brilliance of opal. In addition, moissanite's excellent luster and brilliance make this ring shine in any light. This pairing creates a beautiful and eye-catching look that appeals to those who appreciate the natural beauty and uniqueness of the stone.
The blue alexandrite and the distinctive green of moss agate subtly collide to highlight the delicacy and texture of the moss agate ring. In addition, the iridescence of the opal and the bright green of the moss agate pair perfectly to bring elegance to any outfit.
Choosing which gemstone to pair with a moss agate depends on personal preference and style. It is important to consider the color, texture, and overall appearance of the other gemstones. Moss Agate engagement ring collection will not disappoint you no matter what gemstone you choose to pair with.