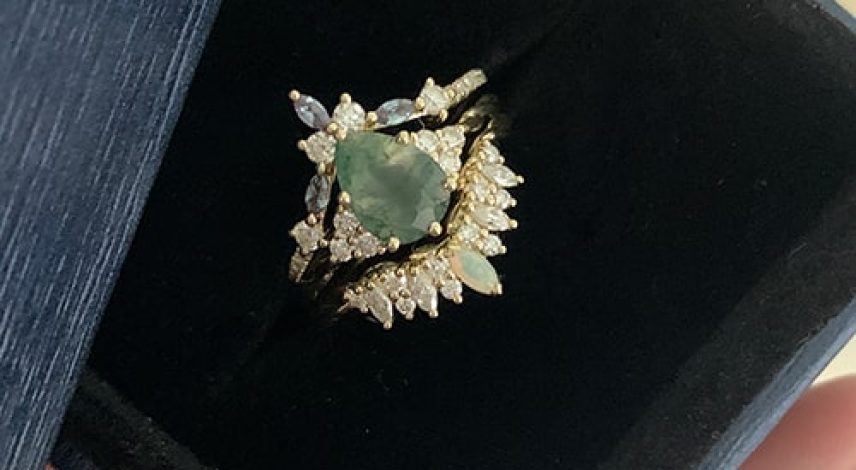 The perfect match between an engagement ring and a wedding band is an important moment for any couple. It symbolizes the unity of two people and their commitment to a lifetime of love and partnership. Choosing how to combine these two rings can be an enjoyable and challenging task. To help you choose, we've prepared a complete guide to choosing the perfect wedding band.
What To Look For When Choosing A Wedding Band
There are many factors to consider when choosing a wedding band that matches your engagement ring. We've summarized the important factors to know when looking for the perfect wedding band to help you find the right one.
The most common pairings are wedding rings and engagement rings that have the same metal made. However, mixed metal bridal sets are becoming more and more popular.
When choosing a wedding band, it is important to consider your "forever style". This is relatively easy if you already have a suitable engagement ring. Depending on its style and overall aesthetic, choose a wedding band that complements and enhances its points.
Different Types Of Wedding Bands
Your wedding band is a symbol of eternal love and commitment, and choosing the perfect style is an important decision.
There are many factors to consider in order to ensure that finding your engagement ring and wedding band complement each other. These include considering whether you want to have a ring that will sit flush with your engagement ring, or whether you are comfortable with a small gap between the two.
If you don't mind a small gap between the two, then your shopping trip will be relatively easy because you can choose from all the wedding ring styles.
Classic wedding band styles are renowned for their simplicity and enduring appeal. Whether it's a solid metal ring or a classic diamond eternity band, the classic wedding band complements many engagement rings while shining on its own. For a solitaire engagement ring, it is a great addition, adding a complete look while drawing attention to the center stone.
Contoured wedding bands are perfect for engagement rings that are not very tall, and this design will fit flush with the engagement ring nicely. If you want a wedding band that matches the curvature of your engagement ring, it is a perfect choice. It fits precisely and tightly around the shape of your engagement ring, which means there are no gaps between them.
Curved wedding bands have a slight curve that can accentuate the elegance of an engagement ring. At the same time, it fits nicely around the engagement ring, creating a perfect engagement set. This curved design and tight fit can make you stand out from the crowd and create an eye-catching set of rings.
Open wedding bands work well for most engagement rings. If your engagement ring has a large gemstone or a long gemstone, it may be a good choice. It has a small notch in the center that will ensure a perfect match with your engagement ring.
Matching your engagement ring to the perfect wedding band is an important decision that requires thoughtful consideration. By considering its metal, style, and flair, you can find a wedding band that complements your engagement ring. The choice of this wedding set is an exciting and enjoyable part of your wedding planning process, and the ring symbolizes your everlasting love and unchanging commitment.
If you are confused about choosing a wedding band to match your engagement ring, please contact us for personalized assistance. We are happy to help you create a beautiful pairing!