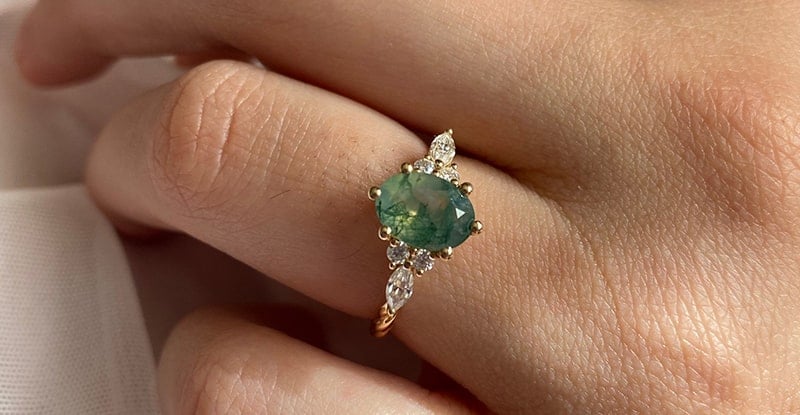 When it comes to engagement rings, many couples choose traditional diamonds or other precious stones. However, moss agate engagement rings are a beautiful and unique option for couples who want a personalized and meaningful ring.
Moss agate is a type of chalcedony, a mineral of the quartz family. The main body of the stone appears transparent or milky white, and is formed in a moss-like pattern due to the green minerals it contains.
Benefits of moss agate engagement rings
In engagement rings, moss agate is often more affordable than other gemstones such as diamonds and sapphires. Although moss agate is relatively inexpensive, its appearance rivals that of more expensive gemstones. Therefore, it may be an attractive option for those who want a beautiful and unique engagement ring but don't want to spend a lot of money.
Moss agate is a fascinating and unique stone that sets it apart from other stones in engagement rings because of its distinctive appearance, making it a perfect choice for couples who want a one-of-a-kind engagement ring.
In addition, moss agate has anti-inflammatory properties and treats fungal and skin infections; at the same time, it prevents hypoglycemia and dehydration and treats colds and infections.
The meaning of moss agate engagement ring
Moss agate engagement rings have multiple symbolic meanings to impress your special moments.
Good Luck and Wealth
Stability and harmony
Connection with nature
Moss agate Often considered a lucky stone, and it can bring good luck to your proposal. It is also associated with wealth, and because of moss agate's association with creativity and abundance, wearing it on an engagement ring can symbolize the hope that the couple will achieve a prosperous future together.
Moss agate engagement rings are a beautiful, unique and meaningful choice for couples looking for a deeply symbolic and perfect ring. At LISA, you can find unique moss agate engagement rings to celebrate the important moments in your life, and we offer a collection of carefully designed and crafted moss agate rings that are sure to have something for you.